Foreign Intelligence Plays an Important Role in Countering Threats - the President of Ukraine
1/24/2022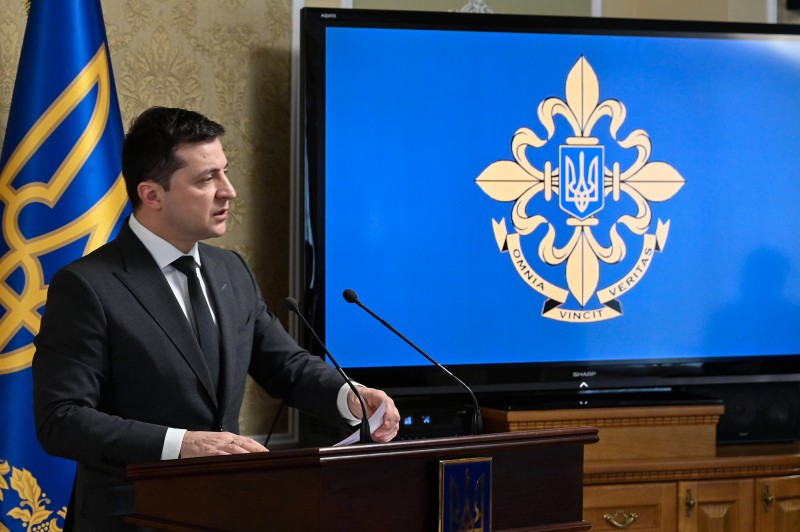 Ukrainian Intelligence has always played an important role in countering external threats. It is time not only to effectively restrain, but also to start offensive actions to defend the national interests of Ukraine. This was emphasized by President Volodymyr Zelenskyy during his meeting with the officers of the Foreign Intelligence Service on the occasion of the Day of the Foreign Intelligence of Ukraine.
"Today, our state is countering extremely dangerous threats, including threats to sovereignty, territorial integrity and unity. In this crucial period, effective intelligence plays an extremely important role", the Head of State stated.
Volodymyr Zelenskyy emphasized that information on the enemy's plans and actions in all spheres is a reliable guarantee for making timely and correct decisions in difficult situations.
The President pointed out the Foreign Intelligence's role in preparing materials on key aspects of security, in supporting negotiations in the Normandy format, the Tripartite Contact Group, on gas issues, Nord Stream 2, and in ensuring the international community's consolidated support for Ukraine.
"We have learnt to deter and counter external aggressions quite effectively. I am sure that the time has come to move forward to defend our national interests. You have the experience and ability to implement such a strategy. Each intelligence officer's intelligence, ability to generate not stereotyped solutions to acute problems, courage and dedication must continue to be effective tools for working for the benefit of our state", the President said.
The Head of State emphasized the importance of obtaining truthful information so that no one manipulates it and so that no one uses Ukraine to their advantage.
"Our citizens are united in returning our territories and wishing peace to our independent state. That's why a lot depends on you: from the veracity of the information to its timeliness", Volodymyr Zelenskyy said.
Chairman of the Foreign Intelligence Service of Ukraine Oleksandr Lytvynenko thanked the President for his attention and support to the Foreign Intelligence Service. He assured that intelligence officers will continue to do their best to provide the country's top leadership with quality and up-to-date information.
The President expressed his respect to all the personnel of the Foreign Intelligence Service of Ukraine for their professionalism and patriotism and wished each employee and their families peace, harmony, good health, inspiration and further achievements.
For their dedicated service and professionalism, Volodymyr Zelenskyy handed intelligence officers high state awards and housing certificates.