Lyubomyr from the Huzars Famous Cohort
12/10/2021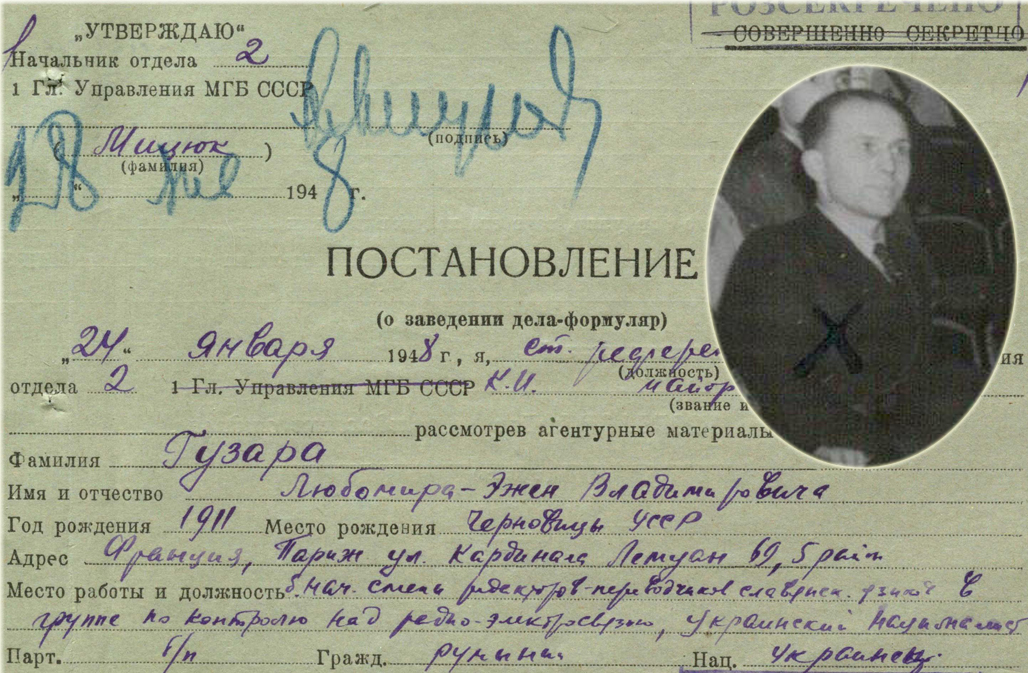 Lyubomyr Huzar was among those Ukrainian emigrants in Paris, such as Symon Petliura, Nestor Makhno, Oleksandr Shulhin, Oleksandr Udovychenko, Mykola Hlushchenko and others, to whom in different historical periods a great interest was shown by the GPU-NKVD of the USSR. The documents on him in the Sectoral State Archive of the Foreign Intelligence Service of Ukraine allow us to fill in some gaps in the lineage of Chernivtsi and Galician Huzars.
Lyubomyr-Eugene Huzar, on whom a case file was opened in January 1948 by the 1st Main Directorate (Foreign Intelligence) of the USSR State Security Committee, at that time was not acquainted with the future head of the Ukrainian Greek Catholic Church, Cardinal Lyubomyr Huzar. Despite their attempts to gather as much biographical information as possible, the Chekists could not to obtain all the information about the family ties of the Huzars, who lived in Chernivtsi and Lviv. Only later did researchers find out that Lev, the grandfather of His Beatitude Lyubomyr Huzar, and Yevhen - Lyubomyr-Eugene's grandfather, were brothers. Moreover, the Huzars from Galicia and those from Chernivtsi were staying in touch. But this was not of special interest to the MGB.
Soviet special services were interested in a confidential document of the Ministry of Internal Affairs of France, which fell into their hands after World War II, with information about active political and social work in France of Huzar Lubomyr-Eugene Volodymyrovych, born in 1911, a native of Chernivtsi, a member of the leadership of the "Ukrainian National Union" in France. The resolution on starting a case file against him stated: "Former head of the shift of editors-translators from Slavic languages ​​in the group for control over radio and telecommunications, Ukrainian nationalist, citizenship - Romanian, nationality - Ukrainian".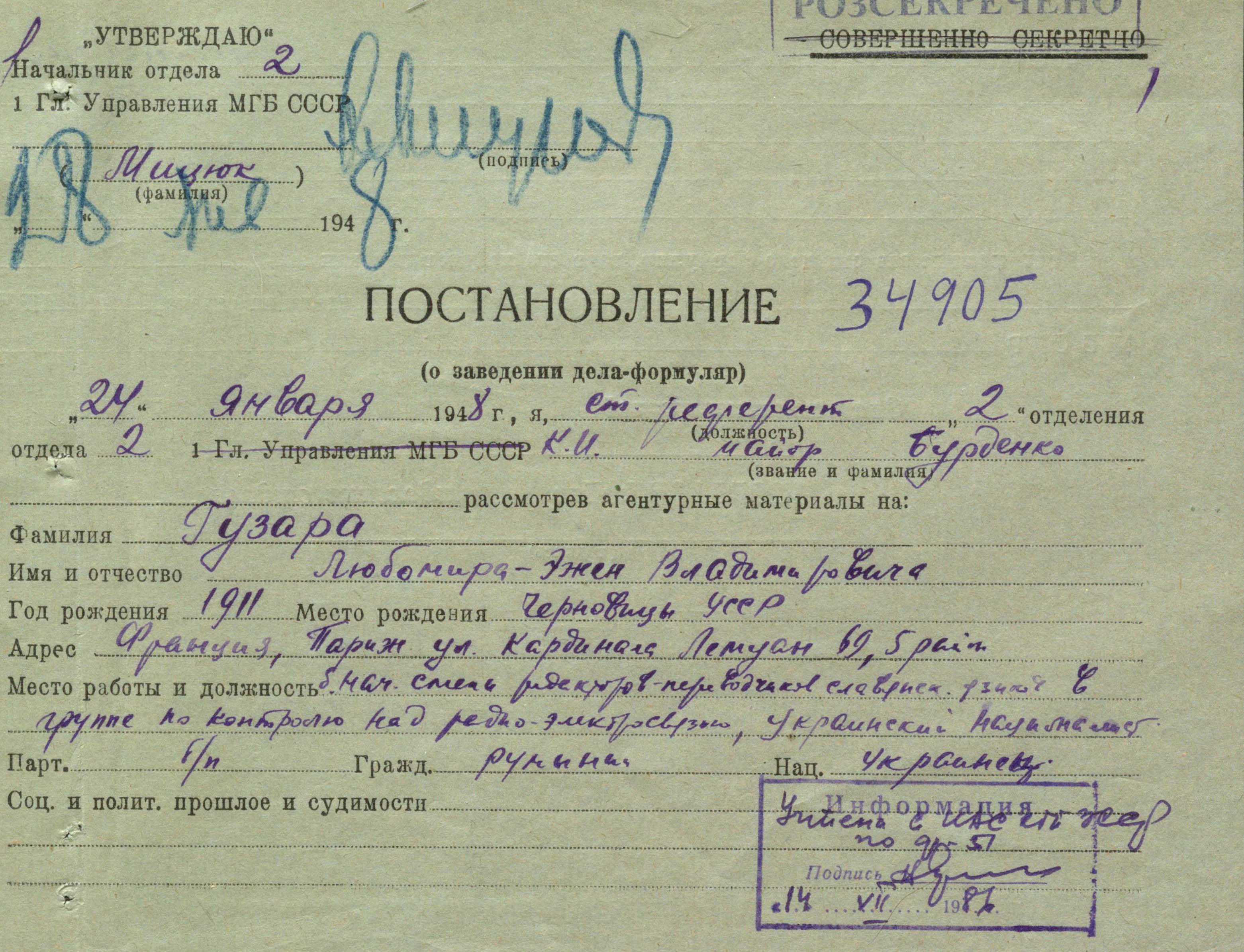 His position showed that he was an employee of one of the French agencies that controlled the radio. In particular, he was directly involved in the translation of texts from Slavic languages ​​into French. Therefore, the defendant in the case was given the pseudonym "Translator". Additionally, the materials stated that he knew many languages ​​well. This greatly fueled interest in him.
According to declassified documents, the Chekists first intended to consider L. Huzar almost as a candidate for recruitment. But the materials received from Chernivtsi, the place of his birth, made them radically change the plans. The Chernivtsi Region State Security Committee reported that all the Huzars were "adamant Ukrainian nationalists", had a negative attitude to the Soviet government, had been repeatedly arrested for their ideas, and all the attempts to make them co-operate, failed.
In particular, the documents stated that Lyubomyr's mother, Olha Zakharivna, was arrested by the NKVD for nationalist activities in 1944 and died in prison in 1945. His father, Volodymyr Yevhenovych, one of the best Chernivtsi doctors and a well-known Ukrainian public figure in the city at the time, was suspected of providing medical assistance to the OUN underground, for which he was subjected to various oppressions and restrictions by the Soviet authorities and was interrogated more than once. Eventually, his health failed, and he died in 1944.
Having graduated from a foreign university, his sister Odarka returned to Lviv in 1941 and married a journalist Orest Chemerynskyi, who actively cooperated with representatives of Ukrainian nationalist organizations. In the first months of the war, a group of the OUN arrived in Kyiv, where they were arrested by the Nazis in December of that year and soon were shot dead in Babyn Yar along with more than 600 other OUN members. His brother Rostyslav was arrested for nationalist activities and sentenced in 1944 to 20 years of penal servitude. He died in the Magadan camps.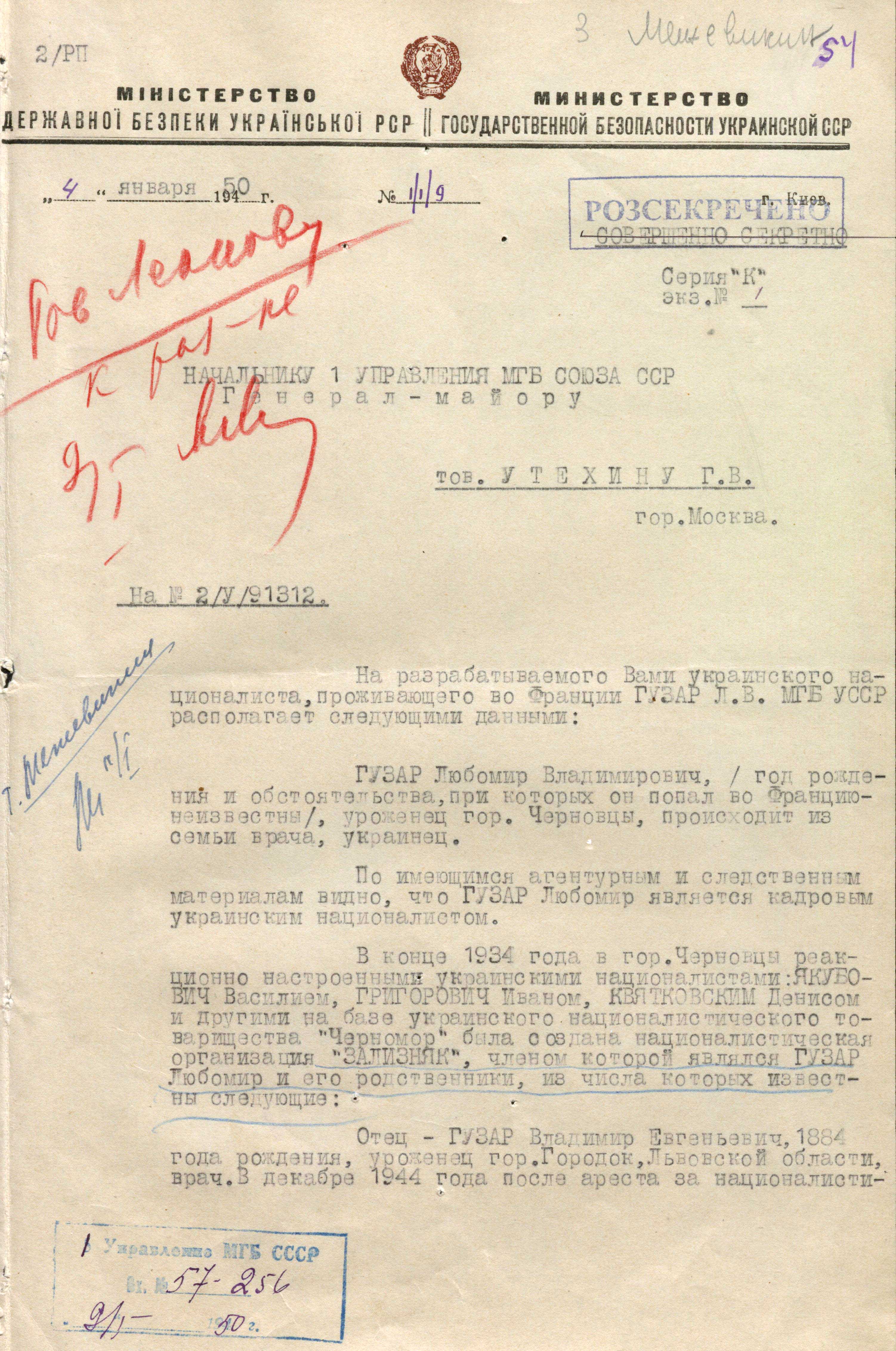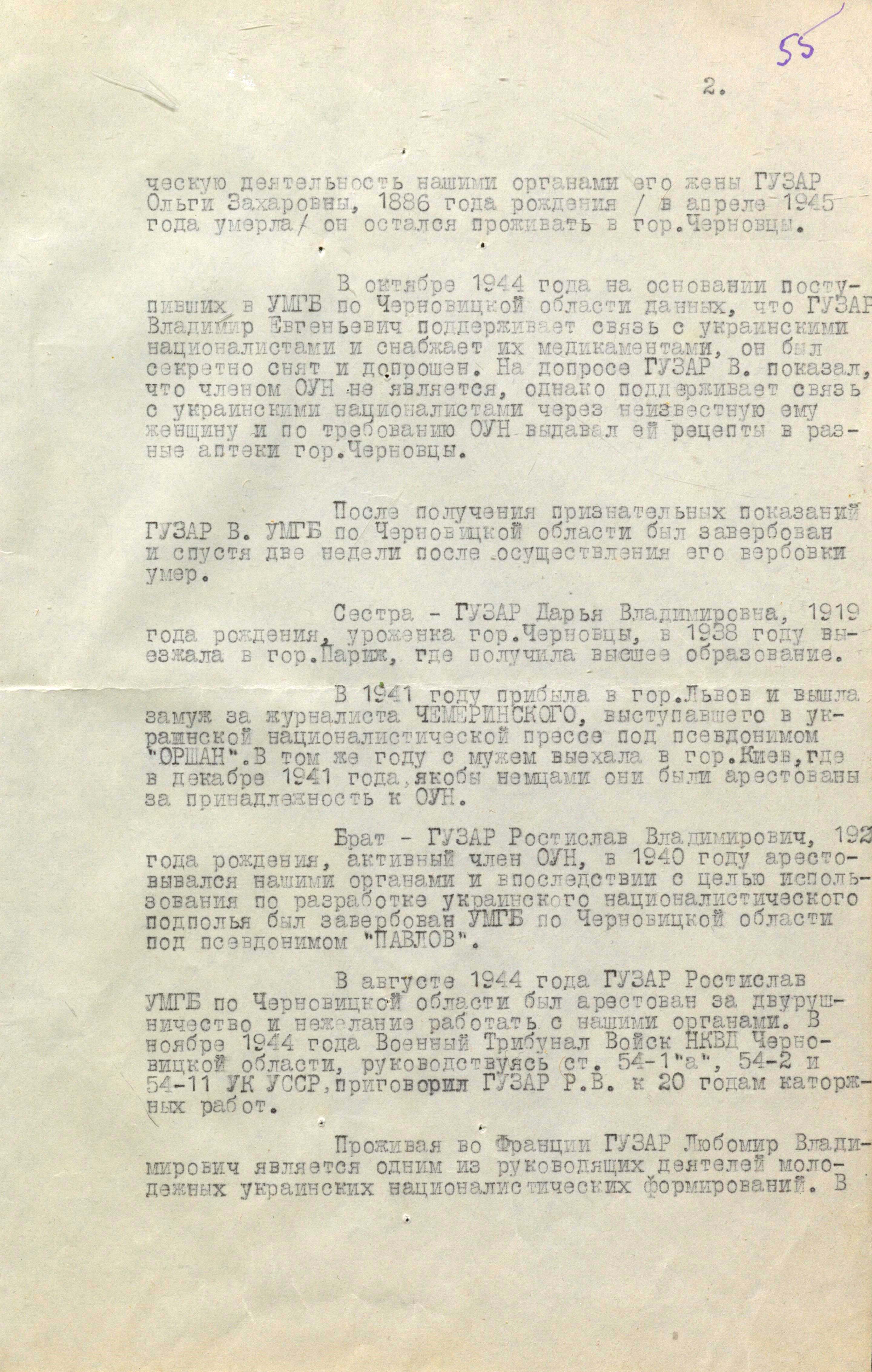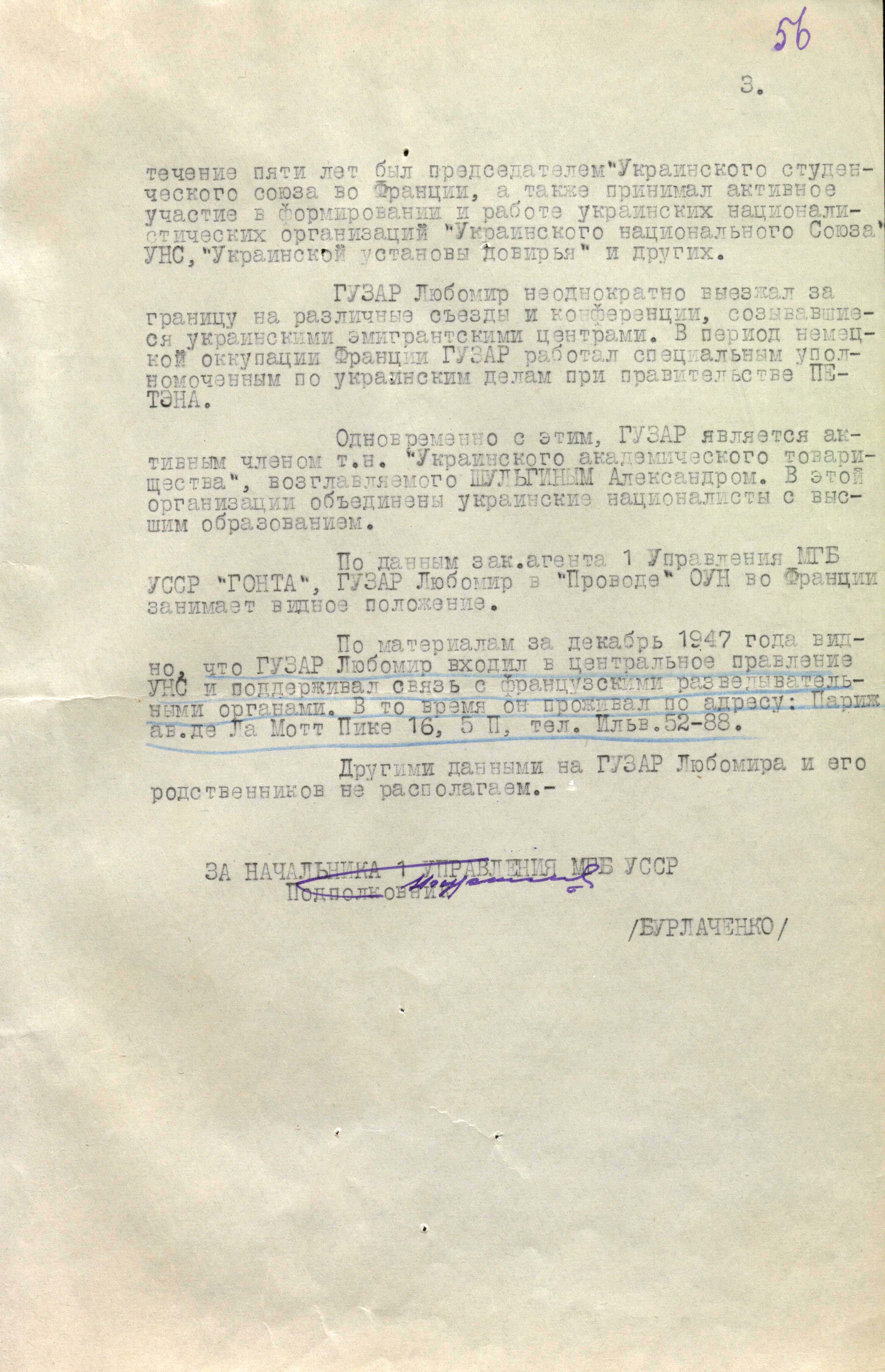 Of the entire Huzar family, only Lyubomyr and his brother Dmytro survived. They lived in Paris. According to archival documents and other materials found by Chernivtsi researchers, their parents sent them to France to study in the second half of the 1930s. After all, in Chernivtsi, which was then under Romanian rule, they could be punished for their beliefs and Ukrainian patriotic position. In particular, Lyubomyr was actively involved in the resumption of the Plast activities, interrupted by the First World War. He was a kurinnyi of the Plast's kish.
Besides, according to one document, at the end of 1934, reactionary Ukrainian nationalists Vasyl Yakubovych, Ivan Hryhorovych, Denys Kvitkovskyi, and others in Chernivtsi founded the Zaliznyak nationalist organization on the basis of the Ukrainian nationalist society Chornomore, of which Lyubomyr Huzar and his relatives were members" (BSA of the SZR of Ukraine. - F. 1. - Case 10732. - Vol. 1. – P. 54).
Together with the future leader of the Ukrainian Nationalists, Denys Kvitkovskyi, Lyubomyr published the first in Bukovyna journal Independence, the press organ of the local OUN, which promoted the idea of ​​Ukrainian statehood and was banned by the Romanian authorities in 1938.
L. Huzar wrote in detail about this and other periods of his life in a kind of autobiography which has survived among other archival documents. In particular, he wrote about his youth that he first studied in a Ukrainian school in his home city of Chernivtsi, and when Ukrainian was banned from teaching, he later switched to Romanian. Then he continued his studies in Vienna in German. Eventually, in 1929 he graduated from a Romanian high school. After that he studied at the University of Chernivtsi at the faculties of law, philosophy, history, economics, sociology, mathematics and chemistry. He received the title of "Licentiate of Legal and Philosophical Sciences".
In November 1935 he left for Paris, where he graduated from the Higher School of Political Economy with the title of Doctor of Laws. But due to lack of funds he could not get a full higher education. In this regard, he wrote that the Romanian authorities forbade his parents to send him money for education, "except for 100 francs for Easter and 100 francs for Christmas".
Here is what he wrote about his command of languages: "I can write in Ukrainian, French, German and Romanian. I can communicate with some difficulties and easily understand Italian, Polish, Russian. I can speak Czech, Serbo-Croatian, Bulgarian, Spanish and English. I understand modern Hebrew. I am the worst at English"(BSA of the SZR of Ukraine. - F. 1. – Case 10732. - Vol. 1. – P. 7).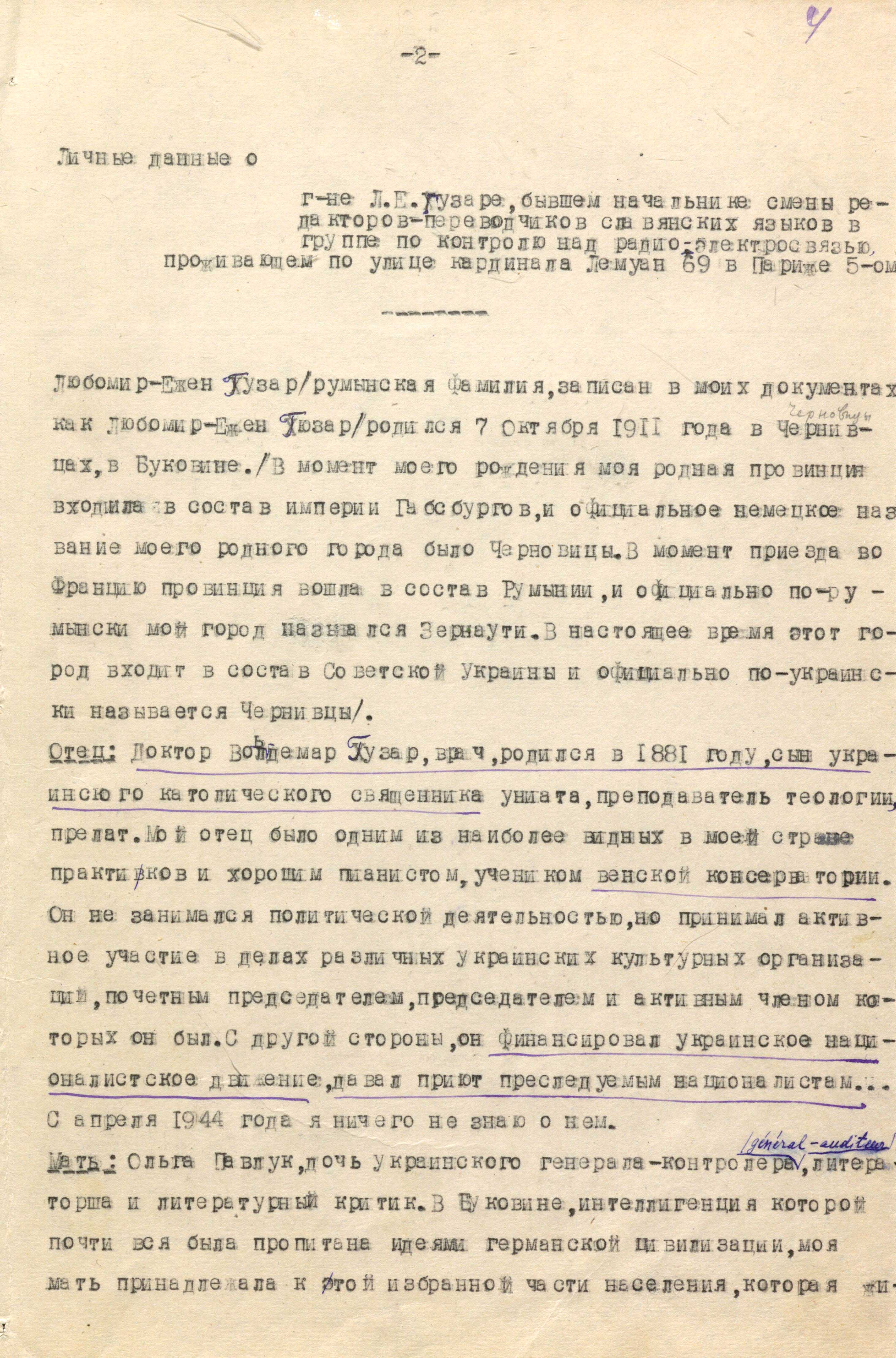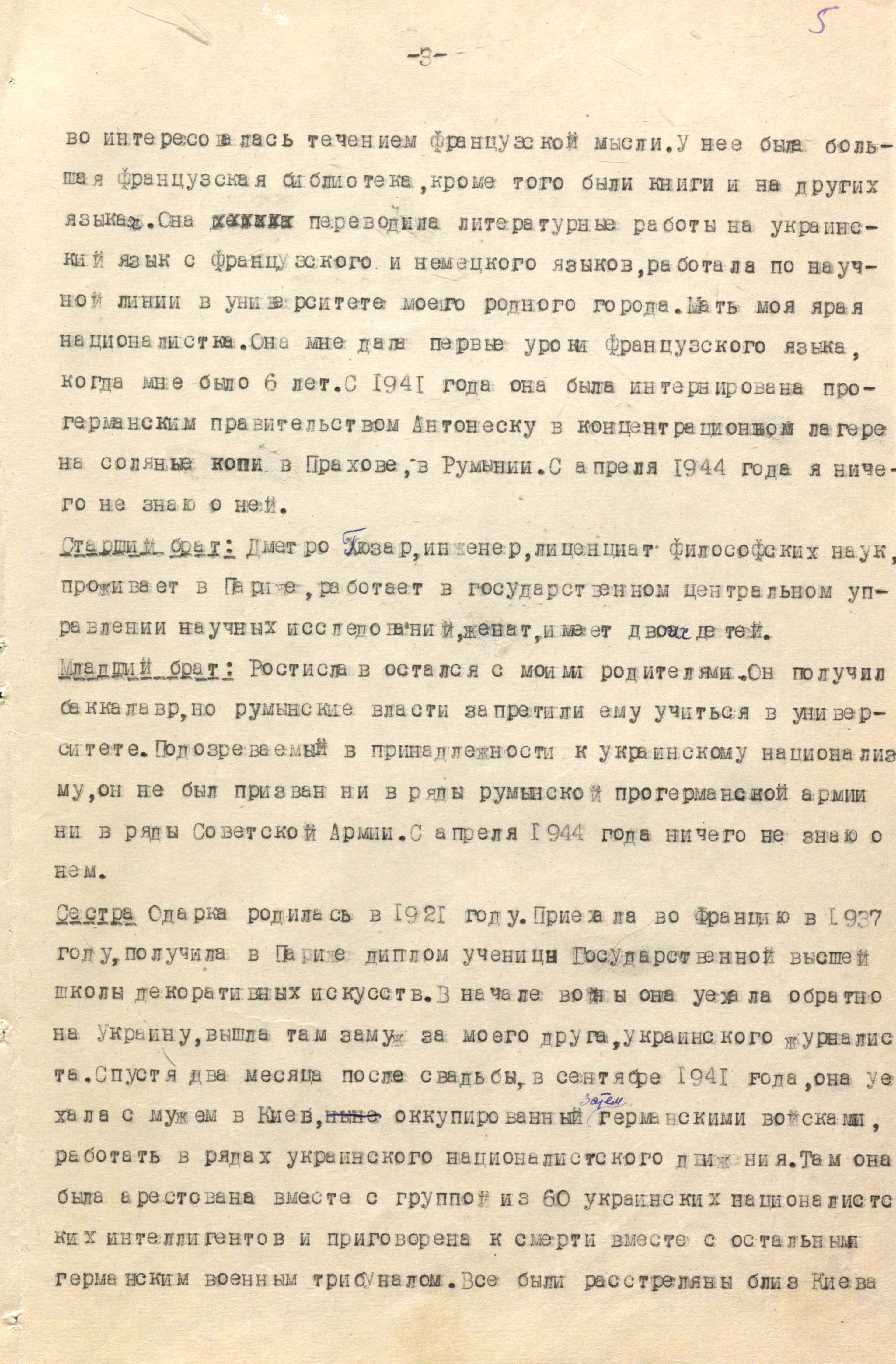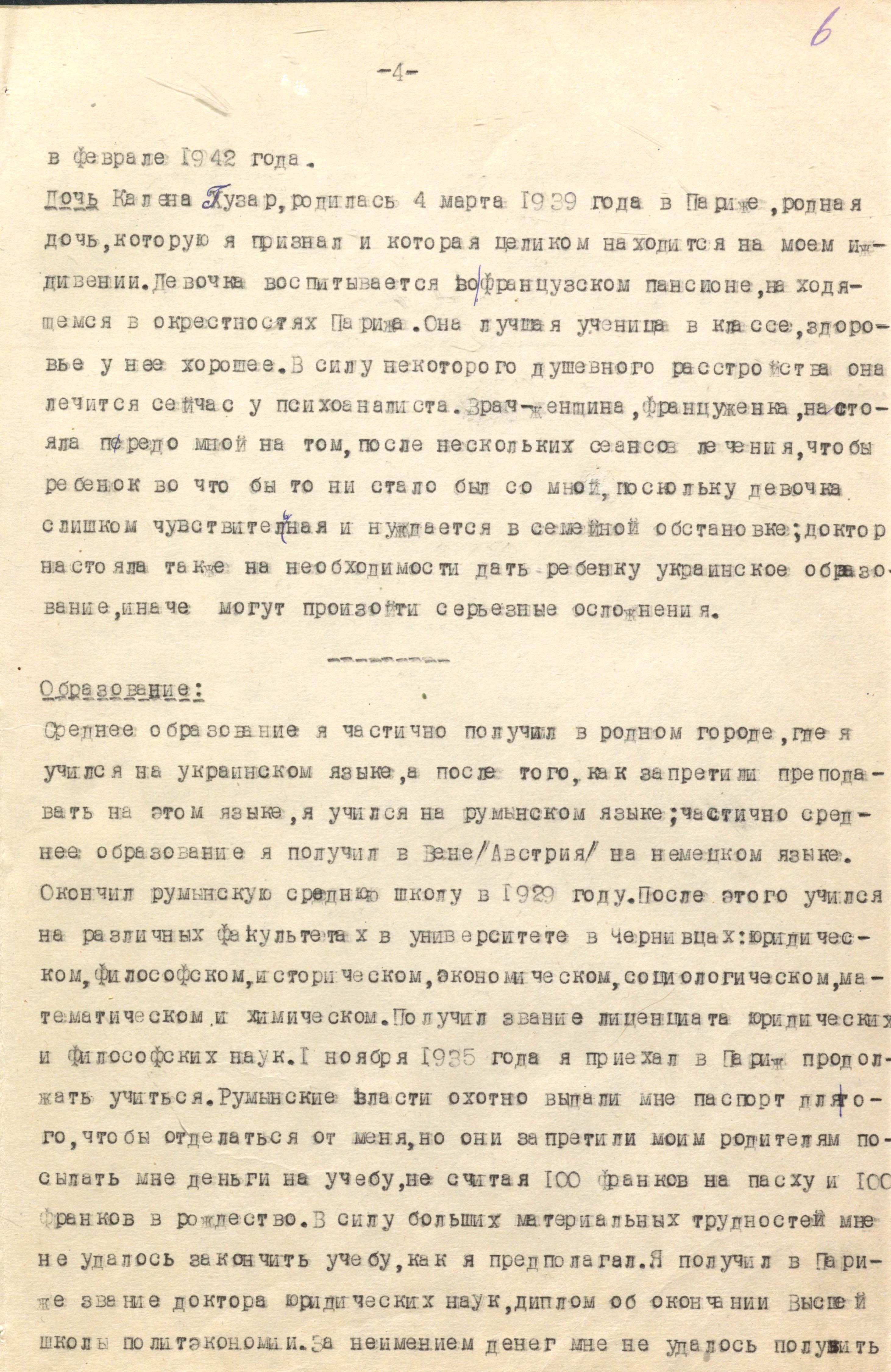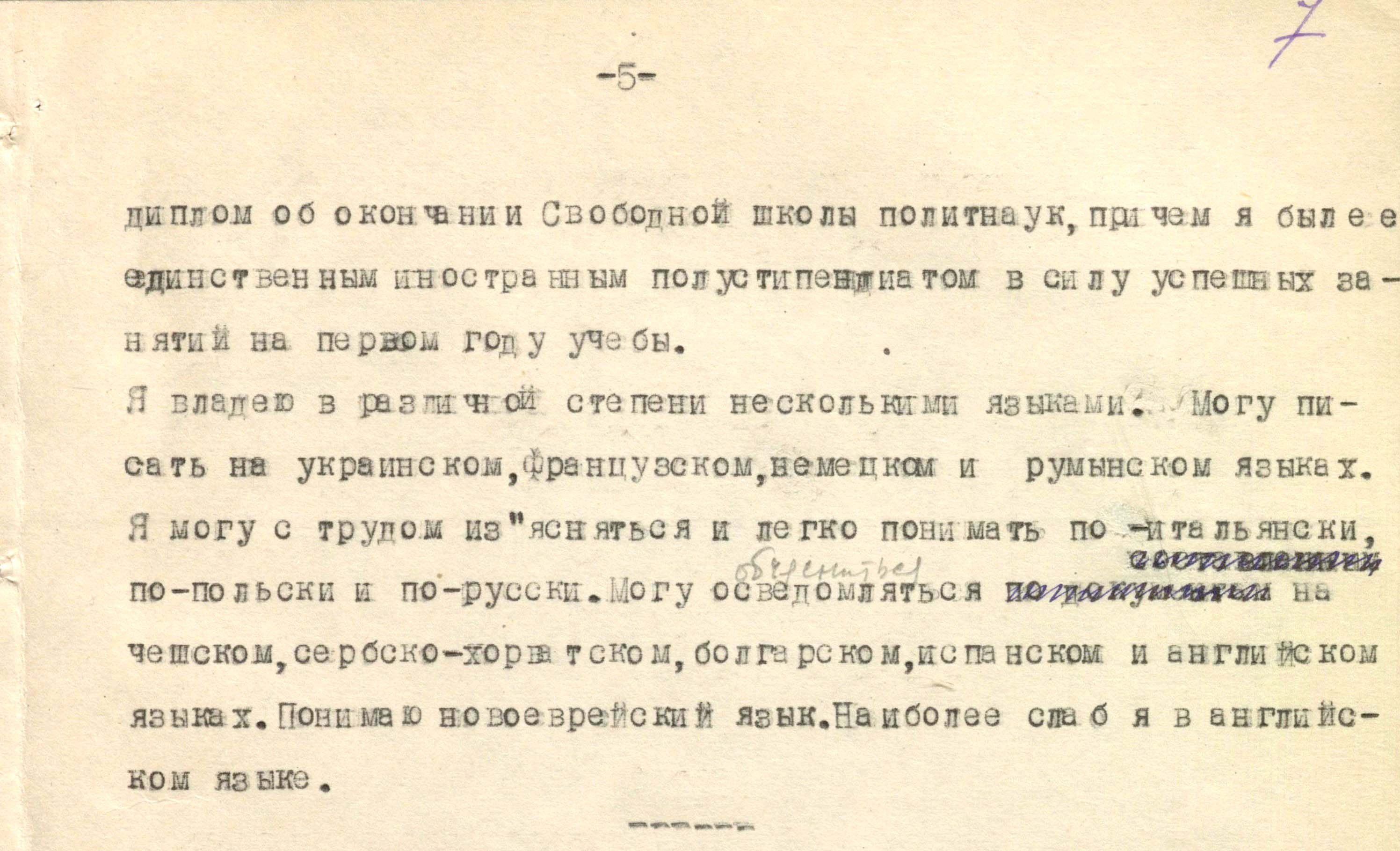 In France, Lyubomyr Huzar quickly found common language with patriotic figures of Ukrainian emigration and engaged in public work. He was soon commissioned to represent the interests of the National Union of Ukrainian Students (the centre of which was in Prague and Vienna) at various congresses of international student organizations and movements. Since then, he had repeatedly traveled to various forums and meetings in Switzerland, Germany, Austria, Belgium, England, Italy, Czechoslovakia and other countries.
"At the end of 1938", the autobiographical note reads, "I was instructed by Ukrainian nationalists to formally represent them before the French government, and I contacted the Foreign Ministry… In 1939, I received money from Ukrainian Americans and founded the Ukrainian Information Service", which initially published only a weekly bulletin in French. Foreign ministers trusted me to such extent, that thanks to this Ministry's interference, the bulletin was published without being censored… At the same time, I also established contacts with the Ministry of Military Affairs and later with the Ministry of Internal Affairs"(BSA of the SZR of Ukraine. - F. 1. – Case 10732. - Vol. 1. – P. 8-9).
According to L. Huzar, he needed such contacts to resolve various issues related to the life and work of Ukrainians in France. At the same time he tried to write articles on political and historical topics. They concerned the countries of Eastern Europe. However, the fees for publications and donations for the activities of the Ukrainian Information Service, which decreased every year, did not allow to cover all expenses and live normally. After all, he on his own was raising his daughter, paying for her education and accommodation in a hostel. He did not write more details about family matters. He just mentioned that he was doing his best to make her grow up in the Ukrainian spirit.
He improved his financial situation while working in the radio and telecommunications control unit in the late 1940s. At the same time, he intended to complete his higher legal education in France in the field of international law and then to work at the United Nations in New York or at UNESCO. But not as a translator, as he was offered, but in some more important position.
He wrote about his political views: "I am a Ukrainian nationalist in the sense that I want the Ukrainian people to be able to decide their destiny and order independently and to organize their lives freely… I want my people to be equal, to live in harmony with other peoples, and not to submit to foreign peoples, as we see it today" (BSA of the SZR of Ukraine. - F. 1. – Case 10732. - Vol. 1. - P. 11).
He also had his own point of view on the issue of citizenship. He came to France with a Romanian passport. At the same time, he repeatedly stated that he was only a "legally Romanian citizen", as Chernivtsi was under Romania at the time of his getting the passport. At the beginning of the war, he was even drafted into the Romanian army, but evaded service in every possible way, not wanting to fight under someone else's flag. French friends had repeatedly accused him of failing to apply to the government for naturalization. He stated that he did not imagine any other Motherland than Ukraine.
And he explained it as follows: "Such a conscious and free choice without coercion would force me to consider France as my Motherland, my only Motherland, because one cannot have two Motherlands. Such a choice would force me not to consider myself a Ukrainian, but I, even against my will, am a natural Ukrainian; I am a natural Ukrainian by beliefs, by way of thinking and perception. Therefore, I believe that France has benefited from accepting a foreigner - a true friend, not a naturalized foreigner who would start his career as a "French citizen", giving up his first Motherland"(BSA of the SZR of Ukraine. - F. 1. – Case 10732.– Vol. 1. - P 13).
At this, L. Huzar advised other Ukrainian workers who had a hard time living in exile to seek French citizenship for themselves and their children. He even provided them with legal and other assistance. He also helped to establish branches of the Prosvita Society in different regions of France, organized material support for Ukrainian students, and edited the weekly Ukrainske Slovo, which was an organ of the Ukrainian People's Union of the Organization of Ukrainian Nationalists (Melnykivtsi).
One of the documents addressed to the Chief of the 1st Directorate of the State Security Service of the USSR, Major General H. Utekhin, and dated January 4, 1950, states: " While staying in France, Huzar Lyubomyr Volodymyrovych was one of the leaders of Ukrainian Nationalists' units. For five years he was the head of the Ukrainian Students' Union in France, and also took an active part in the formation and work of Ukrainian nationalist organizations such as the Ukrainian National Union, the Ukrainian Trust and others… At the same time, Huzar was an active member of the so-called "Ukrainian Academic Society", headed by Oleksandr Shulhin. Ukrainian nationalists with higher education are united in this organization. He is in a high post in the OUN leadership in France" (BSA of the SZR of Ukraine. - F. 1. – Case 10732.– V. 1. - P. 55–56).
In addition, it is mentioned that during the short existence of the Carpathian Ukraine, he was sent to Khust to help Avhustyn Voloshyn to organize a department of international politics and as a liaison with the OUN.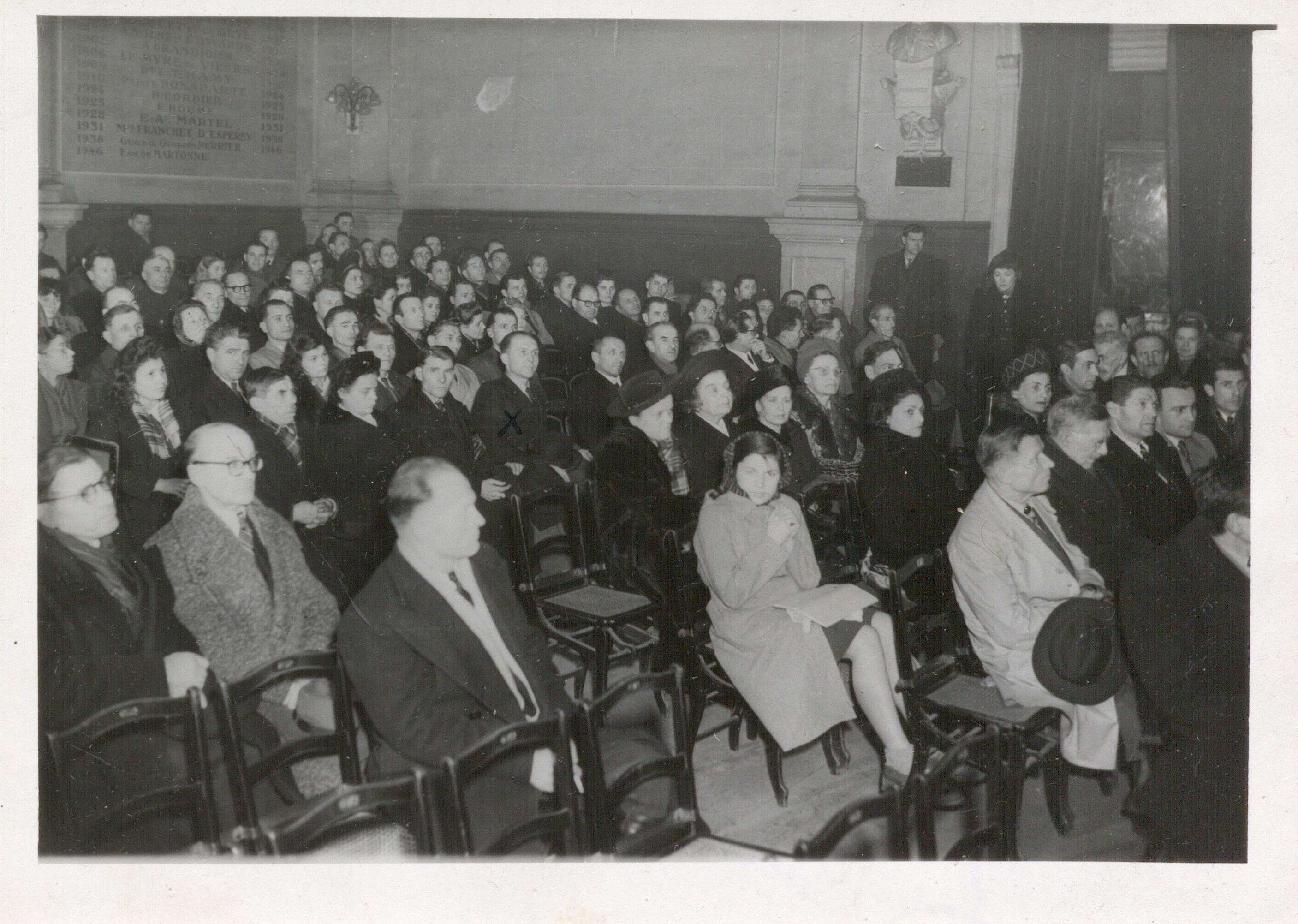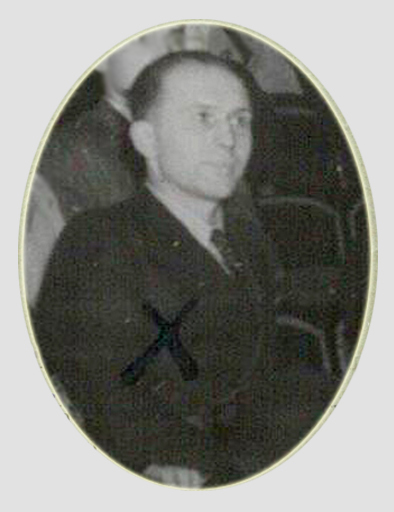 All this gave grounds for the MGB to consider Lyubomyr Huzar an ardent Ukrainian nationalist and an active anti-Soviet element. Moreover, he was accused of collaborating with French intelligence. But no evidence was provided to support this, only speculations. Therefore, his intelligence cultivation continued. In 1956, foreign sources reported that he worked as a manager of a Ukrainian printing house in Paris. In 1959, the KGB board under the Council of Ministers of the USSR decided: "The materials of the case are of operational interest and require further cultivation".
The case file was sent from Moscow to Kyiv to the 1st Directorate of the KGB under the Council of Ministers of the Ukrainian SSR. But the caltivation had no further development. Due to having no agents in L. Huzar's environment, the KGB sent the case to the archives.
Already during Ukraine's independence, researchers from Chernivtsi managed to learn more about the life of their compatriot and even to talk to him during his visit to Chernivtsi with his daughter Kalyna in 1991. At the same time, they dispelled the false information that Cardinal Lyubomyr Huzar was allegedly a member of the Masonic lodge. In reality, a different Lyubomyr Huzar – the one from Chernivtsi belonged to the Masons, and never hid the fact from his friends and acquaintances.
At the same time, His Beatitude Lyubomyr Huzar, who had repeatedly met and communicated with his distant relative, was wary of this information. One of the publications quotes him in this regard: "Lubomyr and a certain group of people created a Ukrainian Masonic lodge in Paris. And there are even documents with the signature "Lyubomyr Huzar", and I was credited with it. I suspect that the Masonic lodge was not a Freemason, they created it more to save themselves both materially and politically. But I never talked to him about that…".
Lyubomyr-Eugene Huzar died in Paris in 1995. After his death, a lot of literature remained in the apartment in Ukrainian, French, English, Italian, Spanish, German, and Czech, which mainly concerned the history of Ukraine and Ukrainian studies. For several months, these books were analyzed and sorted by Ukrainian writer Yuriy Pokalchuk. Thanks to his efforts, a large part of L. Huzar's Paris book collection ended up in Kyiv, in the Department of Foreign Literature on Ukraine of the Institute of Bibliography of the Vernadsky National Library, where it is still kept.
His cause was continued by his daughter Kalyna Huzar-Uhryn. She became a well-known activist of the Ukrainian youth movement in France, a public figure. She was co-editor of the French-language magazine "French-Ukrainian Bulletin" and editor-in-chief of the magazine "Obmin". She translated into French works by Iryna Zhylenko, Yevhen Hutsal, Ivan Dziuba's book "Internationalism or Russification?" and other Ukrainian writers.
Therefore, documents from the archives of the Intelligence allow us to learn more about some, still unknown episodes from the life of the nationally conscious family of the Chernivtsi Huzars, connected by family ties with His Beatitude Lyubomyr Huzar.